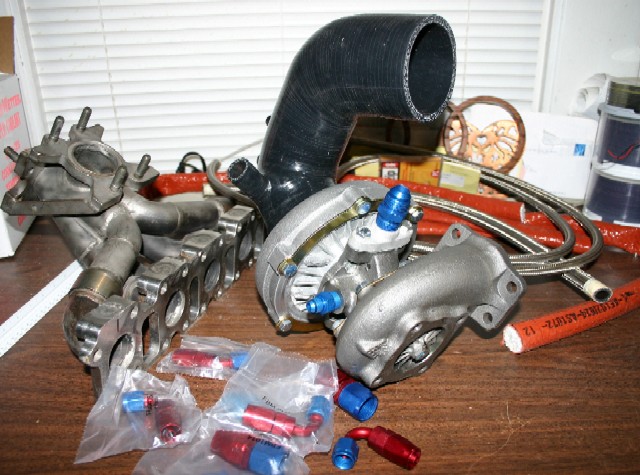 In this picture, is the Garret T04E/50 trim compressor mated to a KKK #6 hotside turbine. I chose the #6 hotside because the rally engine is a 2.0 liter not the standard 2.2 of most iron block 5 cylinders. The wheel is a stage 3 wheel. the weight difference between the stage 3 and stage 5 wheel is pretty substantial. The turbine was bought locally from Majestic Turbo in Waco Texas. They have a great shop and can build anything you want. That place is like a turbo candyland with pretty much any and all types of housings and wheels right there on hand.
The black silicon intake hose if from 2bennet automotive. It has a 3" inlet which fits a standard UrS4 MAF. The outlet is a 2.75" which takes some work to fit over the TO4E compressor housing, but it goes one with some effort. 2bennet also supplied the freeze plug tap for the engine block. My car is not fitted with a water cooled turbo, so I have to convert.
The fittings are all Aeroquip and I bought them at Racerpartswholesale They have a very good online catalog and their prices are excellent. They also have the new AN to metric adaptors so its no longer necessary to drill out the Audi oil pump with National Pipe Threads(NPT) adaptors.